About ProfessorF
Nick V. Flor (ProfessorF) is an Associate Professor of Information Systems, Film & Digital Media at the University of New Mexico (UNM). He holds a PhD & Masters in Cognitive Science and a Bachelors in Computer Science—all from the University of California San Diego. Prior to UNM he was a faculty member at Carnegie Mellon University's Graduate School of Industrial Administration. And prior to academia he spent a decade at Hewlett Packard as a Software Engineer & Project Leader doing graphics & I/O firmware + drivers. He is a past director of UNM's Interdisciplinary Film & Digital Media program. His current research interests lie in the applications of 3D Virtual Worlds to Education, and is the Director of the Reality Augmented Virtual Environments (RAVE) Lab at UNM.
My Interest in Video Game Design
I'm really not interested in video game design per se! My current research is the design of 3D virtual worlds for educational purpose (see below).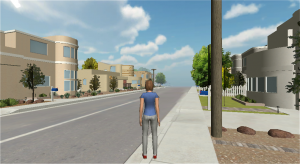 But the way I see it, 3D video games are a kind of (subcategory of) virtual worlds—although for entertainment versus educational purposes. And almost all the techniques used for virtual world design carry over to video game design, and vice versa.
Video Game Courses Taught
I have taught several courses for non-technical (non-CS/non-engineering) undergraduate students in the arts and business on virtual world/video game development. I should point out that at the time I was teaching 2010-2011, the University of New Mexico was a top-10 ranked video game design school (don't ask me why we dropped out of the rankings)—which is my way of saying, "hey, you'll learn some solid stuff".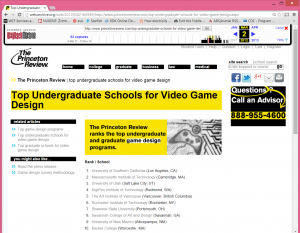 Interdisciplinary Film & Digital Media 205—Activating Digital Space
This was a course for film & digital media students where they learned how to create story-based video games. It was co-taught, with my co-instructor teaching the digital storytelling, and me teaching the 2D/3D video game development
Interdisciplinary Film & Digital 491—Introduction to 3D Virtual World and Video Game Development
3D virtual world & video game development using Autodesk Maya, Microsoft XNA/C#
Management 330— Fundamentals of Business Programming
3D business simulations was a module in this programming course. Business students used Maya, XNA & C# to develop these simulations.
Management 490/594—Advergames
How to create simple 2D games for advertising purposes. C#/WPF.
---
Academic Citation
Flor, N. (2014). [insert_php]echo get_the_title();[/insert_php]. ProfessorF Indie 3D Video Game Tutorial. Retrieved [insert_php]echo date_i18n('F j, Y');[/insert_php] from [insert_php]
global $wp;
$current_url = add_query_arg( $wp->query_string, ", home_url( $wp->request ) );
echo $current_url;
[/insert_php]
Copyright Information
CC BY – This work is licensed under a Creative Commons Attribution 4.0 International License.